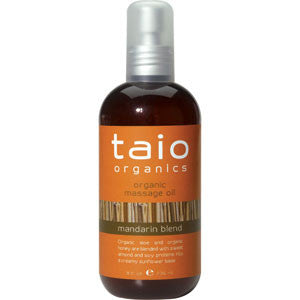 Taio Organics
Taio Organic Massage Oil Mandarin Blend 8oz.
Versatile, easy slip for large areas of the body and naturally formulated for easy absorption without leaving a greasy film on the skin. Taio's Massage Oil blends the oils that are most beneficial to protecting the barrier of moisture on the skin without clogging the pores. Moisturize and massage.
Organic Jojoba Oil- acts as a moisturizer and emollient agent to improve the skin elasticity
Organic Olive Oil-stimulates blood flow and circulation, contains oleanolic acid which boosts the health of skin
Vitamin E-calms the skin, aids in skin elasticity reducing the appearance of marks on the skin.
---
More from this collection